Homemade, Nut-Free and Not-Overly-Sweet Granola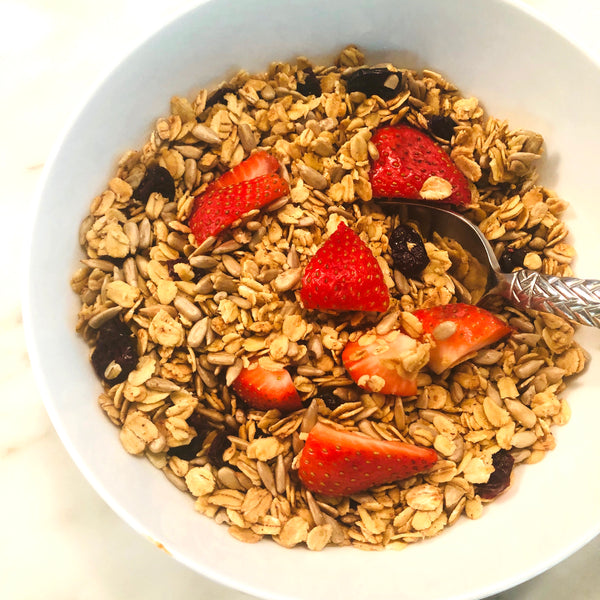 Looking for the perfect homemade, nut free granola recipe?  So did I!  I just love a crunchy granola over Greek yogurt with berries in the mornings or even as a snack later in the day but sadly I find myself rarely picking up a store-bought brand from my local supermarkets. Most of the items available are not nut free granola and even if I find do find one that is I usually find them to be too sweet for my palette. An overload of sugar first thing in the morning doesn't quite feel right to me.  So now that I've had plenty of time at home, I have finally had the chance to test some homemade granola recipes.
This tree nut free granola recipe includes raw pumpkin seeds or sunflower seeds or both as the perfect substitute for classic tree nuts like almonds. Not only are they similar in shape and texture but also once baked and mixed up with the other ingredients, you almost can't taste the difference between the two!
This recipe is also conservative on sugar. You can certainly add more then listed below if you like your nut free granola very sweet (make it up to a full cup of honey, maple syrup or brown sugar ) or even better in my always-looking-for health-ish options humble opinion, you can simply add more natural sweeteners like raisins, cranberries, dried apples and even your choice of allergen friendly chocolate chips once it's baked.  
Lastly this recipe is pretty much an allergy friendly granola recipes in general.  It has no dairy and can easily be egg free granola as well (as a matter of fact no need to even substitute the egg white) and of course you can use your own gluten free products too.  It's really all up to you and part of why I think making your own granola is so awesome not to mention super easy and the perfect recipe to make with children. Jordan, my ten year old was a big help with this batch. This quarantine it's become a staple in my house. Ok here goes…
MAKES 5 cups
SERVES 10
PREP TIME: 15 minutes
COOKING TIME: 20 minutes to 25 minutes
INGREDIENTS
1/2 cup olive oil or other neutral oil, such as coconut or canola oil
1/2 cup honey or maple syrup
2 tablespoons ground flax seeds (healthy add on, optional)
1 tablespoon chia seeds (healthy add on, optional)
1/2 teaspoon ground cinnamon
1/2 teaspoon salt
1 teaspoon vanilla
3 cups old-fashioned rolled oats
1 cup raw pumpkin seeds or sunflower seeds
1 cup raisins or cranberries or other dried, chopped fruit (optional)
1 egg white (optional)
dried fruit (optional)
Heat the oven to 300°F and line a baking sheet with parchment paper. Arrange a rack in the middle of the oven and heat to 300°F. Line a rimmed baking sheet with parchment paper; set aside.
Whisk together the oil, honey, cinnamon, and salt. Place the oil, honey, cinnamon, vanilla and salt in a large bowl and whisk to combine. (Personally I've always used olive oil).  
Add the oats and seeds and stir to coat. Go ahead and mix the oats and seeds right into the oil mixture. Use raw seeds not toasted ones or else they will burn. (If all you can find is toasted seeds then add those in after you have made your granola). You can play with quantities. Granola loves variety. Adding the egg white is optional; egg white will give it a bit more of that shiny crunchiness but it can be omitted.
Spread the oats out onto the prepared baking sheet. Transfer the mixture to the prepared baking sheet and spread into an even layer. (The less spread out, the more you will have chunky clusters if that's what you want…)
Bake for 20 minutes, stirring halfway through. Bake, stirring halfway through, for about 20 minutes total. The granola is ready when golden-brown. Don't worry if it still looks wet when coming out of the oven. It will dry as it cools. Now you can also add in any fruit like raisins or dried cranberries or the roasted seeds if you didn't find raw ones.
Store at room temperature for up to 30 days (although in my house one batch lasts for only 2-3 days)!
Enjoy and expect your family to gobble this up.
Stay safe,
AllerMates Founder/President
Shop AllerMates
SUBSCRIBE
AllerMates in Your Inbox
Meet Iris, AllerMates founder
SEARCH
BLOG CATEGORIES
RECENT BLOGS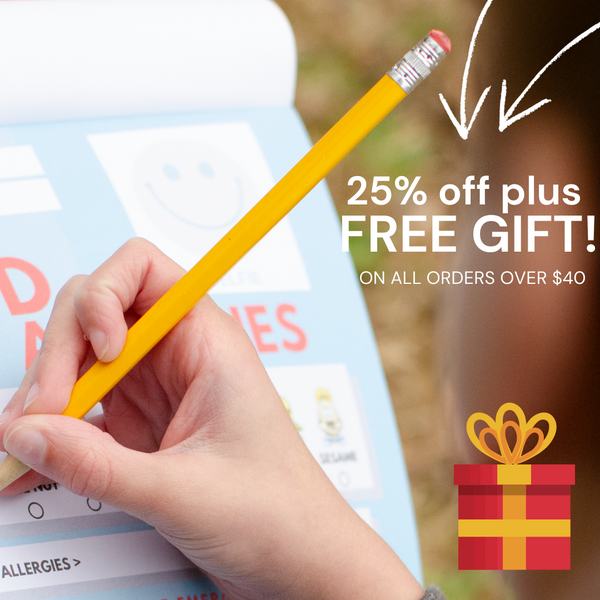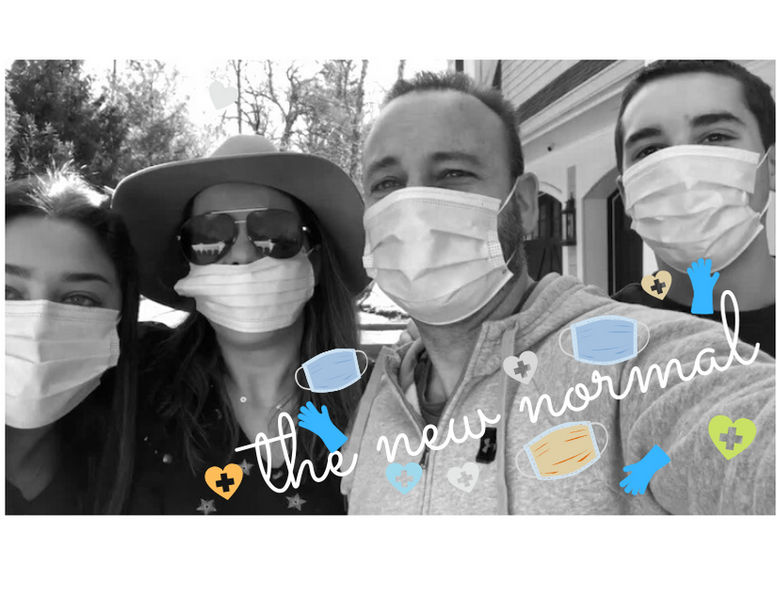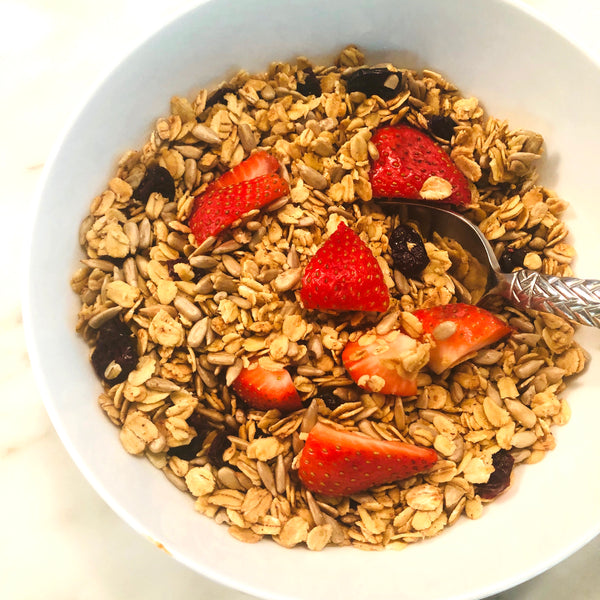 ---